asc-engineered-solutions/products/b448fb82-9163-4099-93f9-12171b94cc4e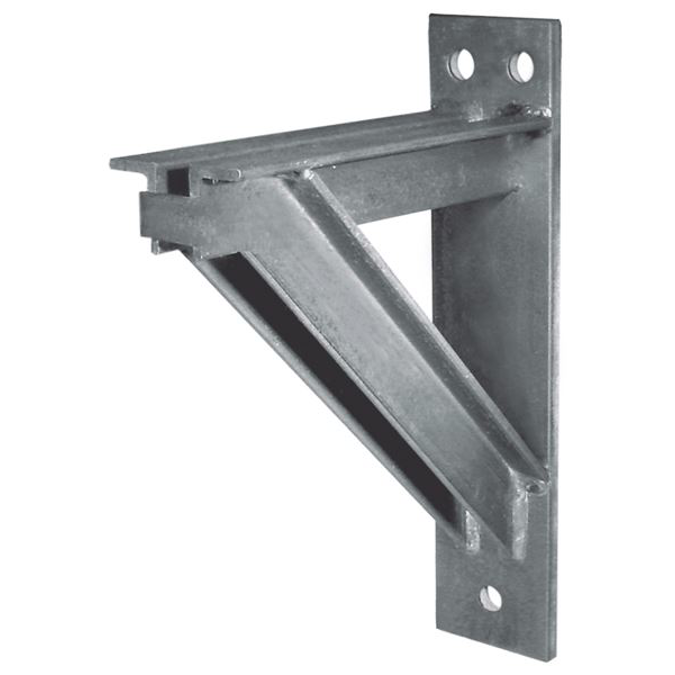 Fig. 199 - Heavy Welded Steel Bracket
How to size: Determine size by dimensions most suitable to the installation (see dimensions of standard brackets below). Special welded steel brackets can be furnished on order.
Installation: When bolted to a wall, an additional back plate may be required of such thickness and size as to properly distribute the weight over the wall. Size and thickness of the back plate is governed by the load to be carried and the nature and conditions of the wall. Back plates furnished upon request.
Features: If supporting pipe by rod, rod can be installed anywhere along the length of the bracket thus providing horizontal adjustment.
Ordering: Specify bracket number, figure number, name and finish. Orders for special brackets are to be accompanied by detailed sketch.
Order Separately: Rod, Fig. 60, bolts, nuts, and back plates for fastening brackets to wall. Specify size and length of rod, bolts size, thickness, and drilling of back plates.

We have Revit content for Hangers. Please select a specific size Hanger to get the corresponding detailed Revit assembly file. The RFA can be downloaded by scrolling to the Downloads panel and clicking the second link at this item level.

The Revit assembly file cannot be downloaded using the MultiCAD functionality.
Technical specification
Unique ref.

fig-199-heavy-welded-steel-bracket

Collection set

Support Systems

Collection

Pipe Hangers & Supports > Structural Attachments > Wall Brackets

Type

Object (single object)

Date of publishing

2022-06-21
Classification
BIMobject Category

Plumbing - Pipes
Region availability
North America
Antigua and Barbuda
Anguilla
Aruba
Barbados
Saint-Barthélemy
Bermuda
Caribbean Netherlands
The Bahamas
Belize
Canada
Costa Rica
Cuba
Curaçao
Dominica
Dominican Republic
Grenada
Greenland
Guadeloupe
Guatemala
Honduras
Haiti
Jamaica
Saint Kitts and Nevis
Cayman Islands
Saint Lucia
Collectivity of Saint Martin
Martinique
Montserrat
Mexico
Nicaragua
Panama
Saint Pierre and Miquelon
Puerto Rico
El Salvador
Sint Maarten
Turks and Caicos Islands
Trinidad and Tobago
United States
Saint Vincent and the Grenadines
British Virgin Islands
U.S. Virgin Islands