aumueller-aumatic/products/a2c6e903-e3d8-409e-b402-5cf7673f740f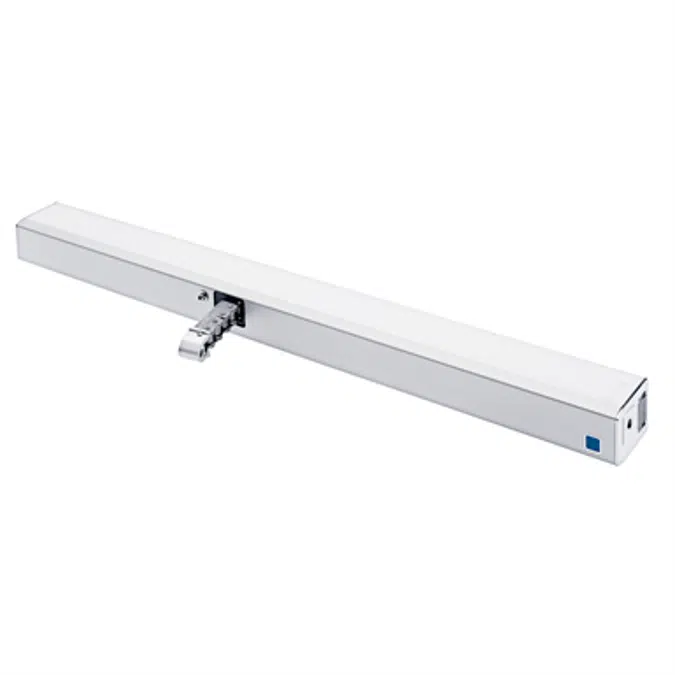 KSA Chain drives AC/ACZ
KSA chain drives from AUMÜLLER are manufactured with the forces of 600 N and 1200 N. Due the compact drive housing, KSA chain drives are ideally suitable for the reliable opening and closing of windows in facades and roofs.
Electronic speed regulation for synchronised running of the drives and specially low noise development when in ventilation operation
Z-version: programmable feedback limit position "OPEN" or "CLOSE"
Suitable for surface mounted drives
Robust, corrosion-resistant design
Universal brackets and casement brackets for all common profile systems
Housing of natural, anodised aluminium, RAL9016 or upon request in other RAL colours
Particularly easy to install paintable cover profile with a length of up to 4.5 m, suitable for covering one or several drives over the complete window width/height
The connection cable can be run out of the housing on either side
Programmable parameters of intelligent S12 electronic cut-off switch:
Synchronised multi-operation of up to 4 opening and 2 locking drives with sequence control
Soft start and soft stop at the end of stroke control
Stroke length, closing force, speed
Reversing the direction in overload cut-off during the shift
Rebate control
M-COM for automatic synchronised run of multi drive applications and automatic sequence control with FV locking drives (S3/S12 SW V2)
Specification
Application: Ventilation
Version: S12- Internal intelligent cut-off-switch-electronic (programmable functions)
Opening mechanism: Mechanical chain-unlocking, Manually chain-pretension
Option for AC-type: Programming of synchronous operation (max. 4 drives) and special
Option for AC Z-type: Programming of end-position feedback "open" or "closed" (max 24V, 500 mA)
Rated voltage: 230V AC (50 Hz)
Rated current: 0,2 A
Risidual ripple: max. 2 Vpp
Cut-off current: 0,2 A
Rated power: 46 W
Duty-cycle: 30 % (ON: 3 min./OFF: 7 min.)
Protection rating: IP 32
Ambient temperature: -5°C...+75°C
Pulling force max: 600 N
Pushing force max: 600 N
Pullout Force: 3.000 N (fastening depended)
Life cycle: 10.000 Cycles
Temperature Stability: B300°C, according to EN 12101-2)
Chain: Rigid bracket Stainless steel
Adjustable chain tension
Mechanical chain unlocking
Connection cable: non-halogen, grey 6 x 0,75 mm²
Speed: 8,0 mm/s
Hub: 250 -1.500 mm (± 5 %)
Total length: 537 – 1.173 mm (programmable)
Aluminium housing (W x H): 56 x 40

KSA mounting
Due to their slim design, chain drives from AUMÜLLER lie flat on the window profiles. They can be used in SHEV systems and for natural ventilation via automated windows, mainly in façades. The window openers are installed either installed surface mounted or integrated into the profile. The preferred installation locations are window frames (main closing edge or side closing edge). It is also possible to mount chain drives to side-hung, bottom-hung, top-hung, friction hinged and parallel outward opening windows. Because of a microprocessor-controlled load dependend cut-off switch, synchronous operation with multi drive applications or sequential controls with locking drives or object-specific special solutions are possible without additional devices.
Technical specification
Product group

Chain Drives

Type

Object (single object)

Date of publishing

2016-09-22
Related
Material secondary

Stainless steel
Classification
BIMobject Category

Windows - Window Openers

IFC classification

Actuator
Region availability
| Europe | Asia | North America | Africa | South America | Oceania |
| --- | --- | --- | --- | --- | --- |
| Åland Islands | Afghanistan | Anguilla | Algeria | Argentina | American Samoa |
| Albania | Armenia | Antigua and Barbuda | Angola | Bolivia | Australia |
| Andorra | Azerbaijan | Aruba | Benin | Brazil | Cook Islands |
| Austria | Bahrain | Barbados | Botswana | Chile | Federated States of Micronesia |
| Belarus | Bangladesh | Belize | Burkina Faso | Colombia | Fiji |
| Belgium | Bhutan | Bermuda | Burundi | Ecuador | French Polynesia |
| Bosnia and Herzegovina | British Indian Ocean Territory | British Virgin Islands | Cameroon | Falkland Islands (Islas Malvinas) | Guam |
| Bulgaria | Brunei | Canada | Cape Verde | French Guiana | Kiribati |
| Croatia | Cambodia | Caribbean Netherlands | Central African Republic | Guyana | Marshall Islands |
| Cyprus | China | Cayman Islands | Chad | Paraguay | Nauru |
| Czech Republic | Christmas Island | Collectivity of Saint Martin | Comoros | Peru | New Caledonia |
| Denmark | Cocos (Keeling) Islands | Costa Rica | Côte d'Ivoire | Suriname | New Zealand |
| Estonia | Georgia | Cuba | Democratic Republic of the Congo | Uruguay | Niue |
| Faroe Islands | Hong Kong | Curaçao | Djibouti | Venezuela | Norfolk Island |
| Finland | India | Dominica | Egypt | | Northern Mariana Islands |
| France | Indonesia | Dominican Republic | Equatorial Guinea | | Palau |
| Germany | Iran | El Salvador | Eritrea | | Papua New Guinea |
| Gibraltar | Iraq | Greenland | Eswatini | | Pitcairn Islands |
| Greece | Israel | Grenada | Ethiopia | | Samoa |
| Guernsey | Japan | Guadeloupe | Gabon | | Solomon Islands |
| Hungary | Jordan | Guatemala | Ghana | | Timor-Leste |
| Iceland | Kazakhstan | Haiti | Guinea | | Tokelau |
| Ireland | Kuwait | Honduras | Guinea-Bissau | | Tonga |
| Isle of Man | Kyrgyzstan | Jamaica | Kenya | | Tuvalu |
| Italy | Laos | Martinique | Lesotho | | United States Minor Outlying Islands |
| Jersey | Lebanon | Mexico | Liberia | | Vanuatu |
| Latvia | Macau | Montserrat | Libya | | Wallis and Futuna |
| Liechtenstein | Malaysia | Nicaragua | Madagascar | | |
| Lithuania | Maldives | Panama | Malawi | | |
| Luxembourg | Mongolia | Puerto Rico | Mali | | |
| Malta | Myanmar (Burma) | Saint Kitts and Nevis | Mauritania | | |
| Moldova | Nepal | Saint Lucia | Mauritius | | |
| Monaco | North Korea | Saint Pierre and Miquelon | Mayotte | | |
| Montenegro | Oman | Saint Vincent and the Grenadines | Morocco | | |
| Netherlands | Pakistan | Saint-Barthélemy | Mozambique | | |
| North Macedonia | Palestine | Sint Maarten | Namibia | | |
| Norway | Philippines | The Bahamas | Niger | | |
| Poland | Qatar | Trinidad and Tobago | Nigeria | | |
| Portugal | Saudi Arabia | Turks and Caicos Islands | Republic of the Congo | | |
| Romania | Singapore | U.S. Virgin Islands | Reunion | | |
| Russia | South Korea | United States | Rwanda | | |
| San Marino | Sri Lanka | | Saint Helena | | |
| Serbia | Syria | | São Tomé and Príncipe | | |
| Slovakia | Taiwan | | Senegal | | |
| Slovenia | Tajikistan | | Seychelles | | |
| Spain | Thailand | | Sierra Leone | | |
| Svalbard and Jan Mayen | Türkiye | | Somalia | | |
| Sweden | Turkmenistan | | South Africa | | |
| Switzerland | United Arab Emirates | | South Sudan | | |
| Ukraine | Uzbekistan | | Sudan | | |
| United Kingdom | Vietnam | | Tanzania | | |
| Vatican City | Yemen | | The Gambia | | |
| | | | Togo | | |
| | | | Tunisia | | |
| | | | Uganda | | |
| | | | Western Sahara | | |
| | | | Zambia | | |
| | | | Zimbabwe | | |