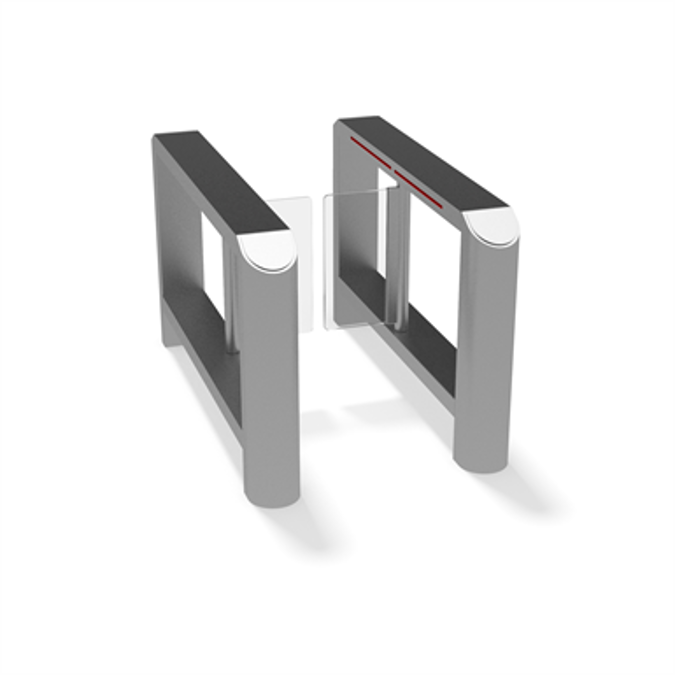 Half-height Sensor Barrier Argus HSB-E02
Passage width = 650 mm, total width = 1.050 mm, interlock height 1.020 mm,
interlock length = 1.760 mm
Housing made of stainless steel satin finish AISI 304.
Two door leaves made of transparent polycarbonate, upper edge 900 mm.
Stainless steel satin finish.
Function Type 2 power assisted motion; 2 servo positioning drives / 2 directions electrically
controlled, drives integrated in the rotating tube.
Entrance sector monitored by a basic sensor system in compact overall length
(fundamental single passage monitoring in both directions, security level 1).
Protective device: rotation angle of the barrier door leaves monitored by the same
sensor system.
2 operation modes are possible:
Default position "day-operation" open: the door leaves close automatically if
somebody tries to pass without authorisation.
Default position "night-operation" closed: the door leaves open automatically for
authorised persons in the passage direction and then close again after passage.
In the case of a power failure: door leaves can be moved freely!
Electric Control units and power supply unit are integrated in the unit.
Power supply 100-120 V / 200-240 V 50-60 Hz
Dowelled on finished floor level FFL.
Not suitable for outdoor installation!
Suitable for escape routes if combined with emergency push button and escape
route equipment (cf. general accessories).
Technical specification
Type

Object (single object)

Date of publishing

2017-01-16
Related
Material secondary

Polycarbonate
Classification
BIMobject Category

Doors - Door sets