winsted/products/f74f40ba-ad3c-4e17-9242-3e45cb4bc03e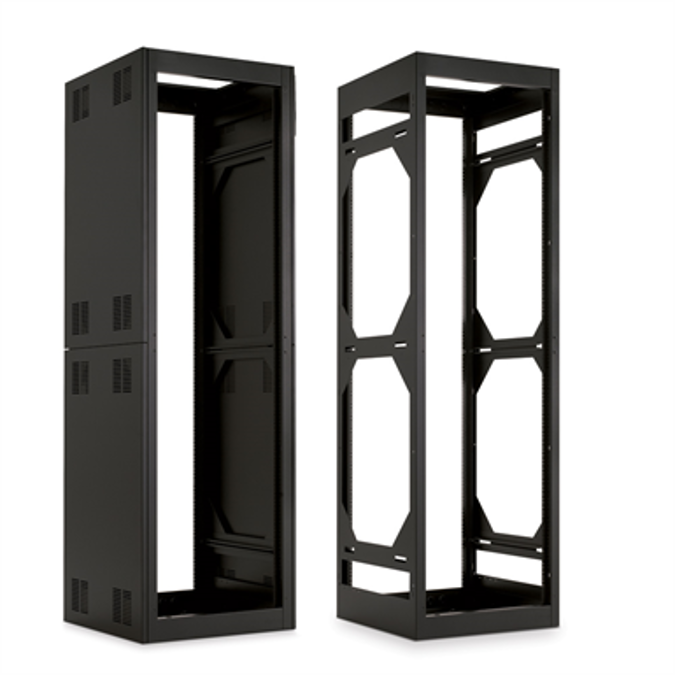 Pro Series II Vertical Racks
Economical UL-approved Pro Series II Vertical Racks deliver the features and functions integrators demand - and include a 10-year warranty. Vertical Racks are available in multiple styles and formats to meet your rack mount equipment needs. Flexible delivery options, thermal management, and optional accessories customize racks to your needs. Winsted's most economical fully welded vertical rack system. These black racks are shipped setup and ready for your electronics.
Pro Series II Features:
Fully adjustable rack rails
Heavy-duty welded frames
Independent lift-off side panels
Black spattered finish
Open top & bottom with 19" EIA mounting
Custom vented side panels
Large corner uprights for cable management
NEMA Conduit knock-outs top and bottom
Optional adjustable leg levelers
Tapped rack rails front and rear

Pro Series II Vertical Rack Cabinets. The strongest and most durable rack in the industry comes in nine sizes. Welded construction with black textured paint to help prevent marring. Larger upright frames for combining racks even after the electronics are mounted.
Technical specification
Unique ref.

winsted_pro-ser-ii

Collection set

Systems Furniture

Collection

Pro Series II Vertical Racks

Type

Object (single object)

Date of publishing

2011-12-12
Classification
BIMobject Category

Furniture - Office Tables

IFC classification

Furniture

UNSPSC name

Office Equipment and Accessories and Supplies

Uniclass 2015 Code

Pr_40_30_25_04

Uniclass 2015 Description

Audio visual furniture

CSI MasterFormat 2014 Code

12 56 52

CSI MasterFormat 2014 Title

Audio-Visual Furniture

OmniClass Title

Commercial Furniture

OmniClass Number

23-21 11 00

CSI UniFormat II Title

FURNISHINGS
Region availability
| Europe | Asia | North America | Africa | South America | Oceania |
| --- | --- | --- | --- | --- | --- |
| Andorra | United Arab Emirates | Antigua and Barbuda | Angola | Argentina | American Samoa |
| Albania | Afghanistan | Anguilla | Burkina Faso | Bolivia | Australia |
| Austria | Armenia | Aruba | Burundi | Brazil | Cook Islands |
| Åland Islands | Azerbaijan | Barbados | Benin | Chile | Fiji |
| Bosnia and Herzegovina | Bangladesh | Saint-Barthélemy | Botswana | Colombia | Federated States of Micronesia |
| Belgium | Bahrain | Bermuda | Democratic Republic of the Congo | Ecuador | Guam |
| Bulgaria | Brunei | Caribbean Netherlands | Central African Republic | Falkland Islands (Islas Malvinas) | Kiribati |
| Belarus | Bhutan | The Bahamas | Republic of the Congo | French Guiana | Marshall Islands |
| Switzerland | Cocos (Keeling) Islands | Belize | Côte d'Ivoire | Guyana | Northern Mariana Islands |
| Cyprus | China | Canada | Cameroon | Peru | New Caledonia |
| Czech Republic | Christmas Island | Costa Rica | Cape Verde | Paraguay | Norfolk Island |
| Germany | Georgia | Cuba | Djibouti | Suriname | Nauru |
| Denmark | Hong Kong | Curaçao | Algeria | Uruguay | Niue |
| Estonia | Indonesia | Dominica | Egypt | Venezuela | New Zealand |
| Spain | Israel | Dominican Republic | Western Sahara | | French Polynesia |
| Finland | India | Grenada | Eritrea | | Papua New Guinea |
| Faroe Islands | British Indian Ocean Territory | Greenland | Ethiopia | | Pitcairn Islands |
| France | Iraq | Guadeloupe | Gabon | | Palau |
| United Kingdom | Iran | Guatemala | Ghana | | Solomon Islands |
| Guernsey | Jordan | Honduras | The Gambia | | Tokelau |
| Gibraltar | Japan | Haiti | Guinea | | Timor-Leste |
| Greece | Kyrgyzstan | Jamaica | Equatorial Guinea | | Tonga |
| Croatia | Cambodia | Saint Kitts and Nevis | Guinea-Bissau | | Tuvalu |
| Hungary | North Korea | Cayman Islands | Kenya | | United States Minor Outlying Islands |
| Ireland | South Korea | Saint Lucia | Comoros | | Vanuatu |
| Isle of Man | Kuwait | Collectivity of Saint Martin | Liberia | | Wallis and Futuna |
| Iceland | Kazakhstan | Martinique | Lesotho | | Samoa |
| Italy | Laos | Montserrat | Libya | | |
| Jersey | Lebanon | Mexico | Morocco | | |
| Liechtenstein | Sri Lanka | Nicaragua | Madagascar | | |
| Lithuania | Myanmar (Burma) | Panama | Mali | | |
| Luxembourg | Mongolia | Saint Pierre and Miquelon | Mauritania | | |
| Latvia | Macau | Puerto Rico | Mauritius | | |
| Monaco | Maldives | El Salvador | Malawi | | |
| Moldova | Malaysia | Sint Maarten | Mozambique | | |
| Montenegro | Nepal | Turks and Caicos Islands | Namibia | | |
| Macedonia (FYROM) | Oman | Trinidad and Tobago | Niger | | |
| Malta | Philippines | United States | Nigeria | | |
| Netherlands | Pakistan | Saint Vincent and the Grenadines | Reunion | | |
| Norway | Palestine | British Virgin Islands | Rwanda | | |
| Poland | Qatar | U.S. Virgin Islands | Seychelles | | |
| Portugal | Saudi Arabia | | Sudan | | |
| Romania | Singapore | | Saint Helena | | |
| Serbia | Syria | | Sierra Leone | | |
| Russia | Thailand | | Senegal | | |
| Sweden | Tajikistan | | Somalia | | |
| Slovenia | Turkmenistan | | South Sudan | | |
| Svalbard and Jan Mayen | Turkey | | São Tomé and Príncipe | | |
| Slovakia | Taiwan | | Swaziland | | |
| San Marino | Uzbekistan | | Chad | | |
| Ukraine | Vietnam | | Togo | | |
| Vatican City | Yemen | | Tunisia | | |
| | | | Tanzania | | |
| | | | Uganda | | |
| | | | Mayotte | | |
| | | | South Africa | | |
| | | | Zambia | | |
| | | | Zimbabwe | | |