obo-bettermann/products/3520f814-e3b0-4c0a-9d9c-69d3ebc7d1b1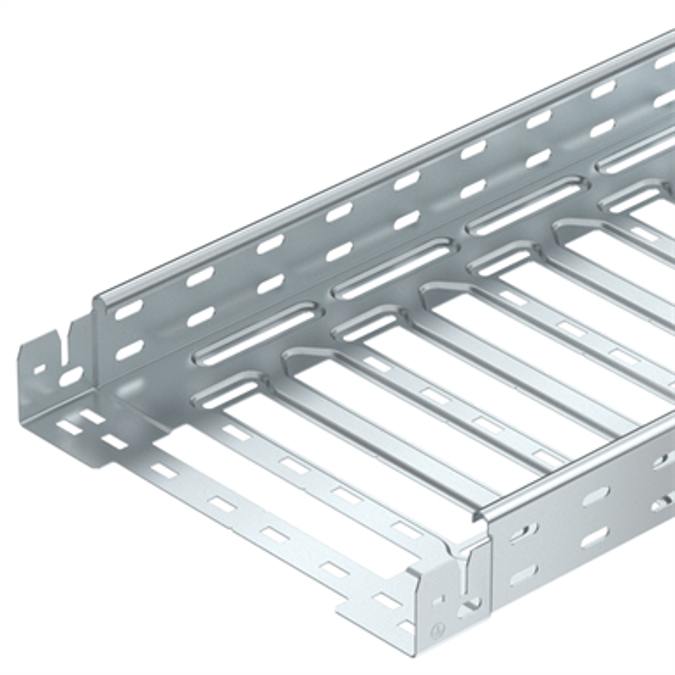 Ventilated Tray MKS-Magic Cable Systems
Same benefits as our standard ventilated tray but with SELF CONNECTING feature. Perfect for heaver duty applications routing higher capacity cables. Factory formed fitting make installation easy. Ventilated tray allows for airflow and prevents over heating.
MKS Magic Ventilated
Self Connecting cable tray. No connection hardware or splice plates required for connecting straight runs and Magic fittings. OBO Bettermann's ventilated cable tray is available for both medium and heavy-duty applications. A wide variety of fittings, covers and dividers are offered for each height and width combination.
FEATURES
Patented Magic connection allows installer to quickly connect lengths of tray and Magic fittings with a single snap.
Wide variety of Magic fittings available including: 90 and 45 degree bends, adjustable bends, tees, crosses, vertical bends and adjustable vertical bends.
Heavy duty 1.5mm thick steel is available
Ventilated sides and bottom allow for improved air flow
Complex 3D structure allows for increased load capacity
Complete range of mounting accessories available including: wall brackets, splices, ceiling mounts, beam supports and floor mounts.
PRODUCT SPECIFICATIONS
1mm-1.5mm [19-16 gauge] plate thickness
60mm- 110mm [2-4"] side heights
50mm-600mm [2-24"] widths
Technical specification
Unique ref.

ventilated-mks-magic

Collection set

Cable Trays and Horizontal Racks

Collection

Ventilated Cable Tray Systems

Type

Object (single object)

Date of publishing

2014-01-29
Classification
BIMobject Category

Electrical - Distribution
Region availability
North America
United States